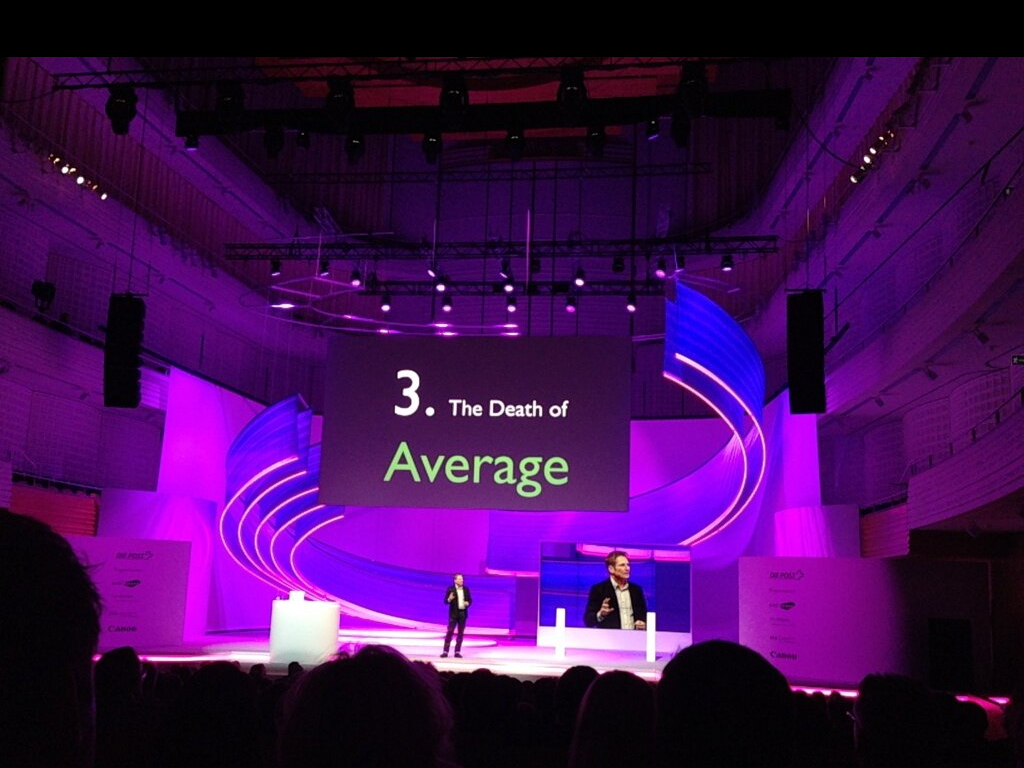 PLAY VIDEO
Speaking
As one of the world's leading retail experts and speakers, Doug Stephens offers an ever-evolving array of cutting edge and compelling keynote topics, suitable for any business audience. Every keynote is crafted to be extremely entertaining, visually rich, enlightening and specifically relevant to each and every group.  Your audience will not forget this.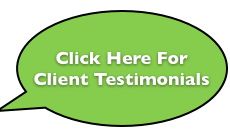 Topics
The Future of the Retail Store
Are we witnessing the death of the retail store or its astonishing rebirth and the beginning of the true Golden Age of retailing?  It's a topic of ongoing and passionate debate. One thing is certain, the store of the future will be vastly different. In this fascinating talk, Doug Stephens will show you the store of the future, from staffing and store design to technology and marketing – and how each will change dramatically in the months and years ahead.  You'll gain the vital insights you need today, to design the store of tomorrow.
Doug is represented exclusively by The Lavin Agency.

The Future of Consumerism
It's the end of a very fat and lazy era of consumerism.  The uniquely favorable conditions that gave meteoric rise to mega-retailers like Walmart, Home Depot and Tesco are unraveling quickly, giving way to an entirely new and far more precarious consumer marketplace. Who the consumer is, in addition to how, where and even why they shop, is changing rapidly and forever.  For brands unwilling to meet these changes, this new consumer age will bring almost certain disaster. However, for savvy, courageous businesses both big and small, it offers unprecedented opportunities for growth and success.  This fast-paced and entertaining talk sheds light on the key shifts in economics, demographics, technology and media that are completely transforming the consumer landscape and the very essence of how we buy.  You will gain insight into what smart brands are doing to re-imagine their businesses and capitalize on this historic shift.
If you'd like Doug to present to your organization, contact us.
The Road to Remarkable: 8 Things The World's Most Innovative Companies Never Do
In a world where mediocre will no longer cut it, what are the common strengths that the world's most dominant brands bring to market?  How exactly do the best retailers and manufacturers innovate to create uncontested market space and most importantly, what pitfalls do great innovators avoid that most others fall into? Referencing years of research, The Road to Remarkable examines the surprising links between the world's most successful businesses and provides actionable ideas and steps to emulate their success. It's an uplifting and mind-expanding peek into the realm of radical innovation and strategy.
5 Coming Crises In The Retail Market
If you're a retailer, you may not be sleeping very well these days and that's understandable.  Tectonic shifts in demographics, economics, technology and media all seem to be conspiring against traditional retail business models and paradigms.  Big brands are closing stores, malls are shuttering and consumer spending is increasingly going online, laying waste to power centers and main street merchants alike.  But while all of this is true, it is also a time of unique opportunity to reimagine, reinvent and reinvigorate one's retail business.
In this riveting talk, Doug Stephens takes you through the short-list what he sees as being the category five hurricanes poised to hit the retail industry over the coming decade.  You'll find out what's driving these phenomena and what their potential impact will be to your business. Most importantly, you'll learn how smart, forward-looking brands, CPG's and retailers are already capitalizing on the opportunities these trends hold.
The Third Shelf: Moving Beyond Omni-Channel
Retail marketing has always been focussed on two "shelves" – the shelf in the physical or online store where the customer purchased your product and the shelf in their home where they kept your product until they needed more of it. For centuries, marketers have placed their time, effort and spending to influence consumers at these two shelves, with a combination of mass media,  in-store promotion and other forms of interruption.  But today, thanks to technology, there's a third shelf and it can be anywhere in the world your brand wants it to be and where consumers need it to be.  In The Third Shelf, you'll see how savvy brands are thinking beyond channels, mediums and devices and instead taking their stores directly to consumers wherever they are, completely hijacking the rules of retail marketing in the process.  You will never think of your store the same way again!
If you'd like Doug to present to your organization, contact us.
Big Data and The Retail Revolution
90% of the data that exists today was created within the last two years! And while the sheer volume and velocity of data is definitely astonishing, what's even more compelling is our growing capacity to gather, analyze and make sense of it all. From social media streams, videos and reviews to weather, traffic and machine to machine communication, each day a virtual universe of data is being created. Smart brands are honing their understanding of that data and its potential impact on every aspect of their customer's experience with their brand.  The Destination is You will provide a glimpse into the future of retail by examining this new and amazing data deluge and how pioneering brands around the world are turning it into a new world of opportunity.
The Segment of One:  The Future of Customized Manufacturing
300 years ago most goods were customized, bespoke and unique.  The industrial revolution created a sea of sameness and product parity.  In this fascinating talk Doug highlights the companies, technologies and social trends that are shifting the consumer economy from centuries of mass production to a future that will offer us efficient, one-off, customization.  From apparel to eye wear to household goods and furniture, the days of personalized production are back and it's a shift that will revolutionize retailing as we know it.
The Future of Commercial Real Estate
The days of the ten year lease, static rosters of mall tenants and percentage-of-sales lease rates will soon be a distant memory.  Increasingly, commercial real estate professionals and mall management will have to become brilliant and creative curators of remarkable, thrilling and constantly evolving retail experiences.  Pop-up, virtual, omni-channel and collective store spaces are challenging age-old paradigms around what a store is, where it's located and the terms on which it's leased.  In this talk, Doug Stephens paints a picture of the retail real estate landscape of tomorrow and shares the critical new competencies that industry professionals will require to succeed in this radically different retail reality.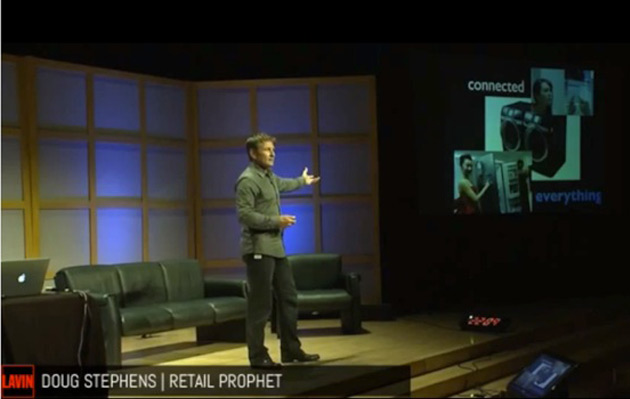 Each speaking topic can be presented as a workshop or webcast.  Fully customized, individually crafted keynotes are also available on request.