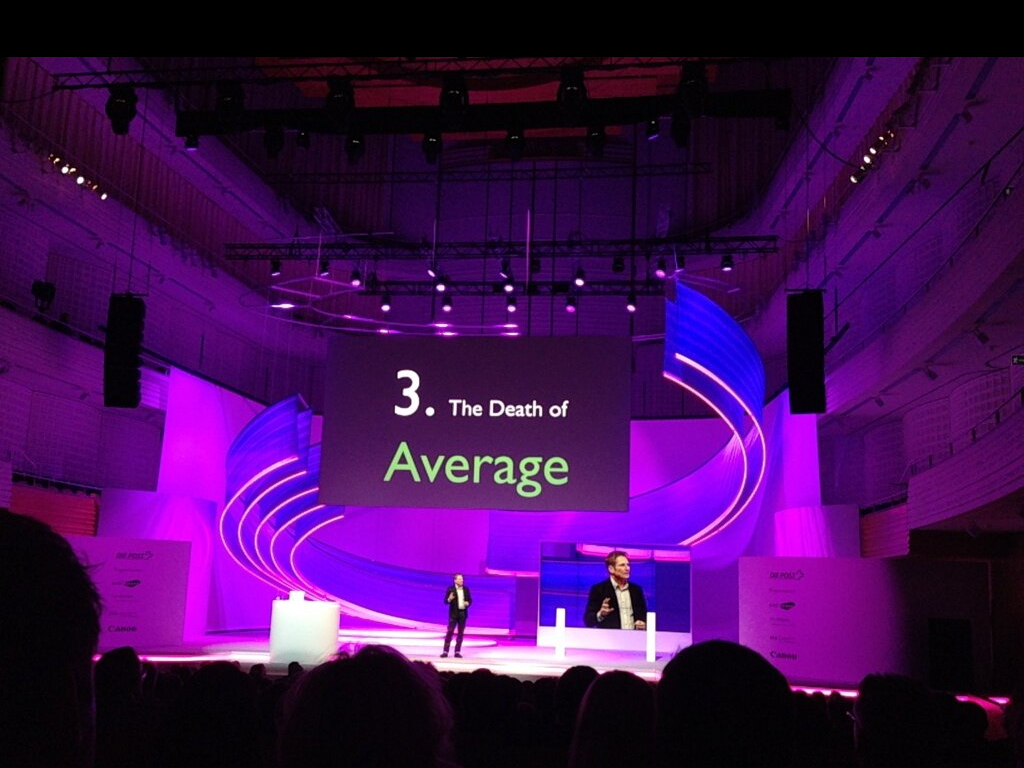 PLAY VIDEO
Speaking
When Walmart, Google and BMW wanted to understand the future of retail they, like dozens of other Fortune 500 companies called on Doug Stephens. As one of the world's most sought after retail speakers, Doug offers an ever-evolving array of cutting edge and compelling topics, suitable for any business audience. Every keynote is crafted to be extremely entertaining, visually rich, enlightening and specifically relevant to each and every group.  Your audience will not forget this.

Topics
The Future of Consumerism
In this fascinating talk, Doug Stephens tackles the future of consumerism, shedding light on the key shifts in economics, demographics, technology, and media that are completely transforming the consumer landscape, and the very essence of how we buy. 

Who the consumer is, in addition to how, where, and even why they shop, is changing rapidly and forever. The way stores look—and how we interact with them—are constantly in flux. Mobile technology, social commerce, artificial intelligence, the internet of things, virtual reality, big data, and a deluge of developing technologies are all conspiring to forever change how we buy. How do we cope with all these transformations? Doug shares what smart brands are doing today to re-imagine their businesses and capitalize on these historic changes.
The Future of the Retail Store
Are we witnessing the death of the retail store or its astonishing rebirth and the beginning of the true Golden Age of retailing?  It's a topic of ongoing and passionate debate. One thing is certain, the store of the future will be vastly different. In this fascinating talk, Doug Stephens will show you the store of the future, from staffing and store design to technology and marketing – and how each will change dramatically in the months and years ahead.  You'll gain the vital insights you need today, to design the store of tomorrow.
If you'd like Doug to present to your organization, contact us.

The Future Of Brands In A One-Touch World
Only a short time ago, the value that brands provided to consumers was chiefly two things – familiarity and consistency. Amid a field of unknown and untrusted alternatives, a familiar brand logo, jingle or tag line provided the much-needed cognitive shorthand to help shoppers confidently choose.  All this has changed forever.  With a couple of taps of their smartphone consumers can confidently gather an immediate understanding of product and service alternatives available to them in the moment. Consequently, our reliance on brands to be beacons of familiarity and predictability is sharply declining. So, what do consumers expect from the brands they choose?  In this insightful talk, Doug will share the new imperatives for generating brand awareness, growth and sustainability, with global examples of the businesses that are already playing and winning by a new set of rules.

The Road to Remarkable: How Great Companies Innovate
In a world where mediocre will no longer cut it, how exactly do the best brands innovate to create uncontested market space? More importantly, what pitfalls do the most innovative companies avoid that others succumb to? Referencing years of research, with The Road to Remarkable, retail futurist Doug Stephens examines the surprising links between the world's most innovative businesses and provides actionable ideas and steps to emulate their success. It's an uplifting and mind-expanding peek into the realm of radical innovation and strategy.


The 5 Elements of a Remarkable Customer Experience
Brands struggle to meet and exceed the expectations of today's sophisticated customer. Although it's widely recognized brands best positioned to thrive in the future will compete on the customer experience, there's a misconception about what "customer experience" really means.
Join author and internationally renowned consumer futurist, Doug Stephens, for an amazing tour of the future, where every aspect of the retail experience as we know it, will be radically transformed. Stephens will present what constitutes a truly remarkable customer experience and how retailers can create 1-to-1 intelligent journeys to deliver connected shopping experiences to secure their place in the hearts and minds of tomorrow's consumer.
True customer experience design means digging below the surface within each interaction to understand the underlying customer need. It means engineering the exact combination of people, place, product and process to deliver delight in every moment, whether online or in store.
The End Of The Beginning Of Ecommerce
Global ecommerce, now in excess of 1.2 trillion dollars is growing at a double-digit pace.  The question on the minds of many in the retail market, especially brick and mortar retailers is when will ecommerce top out? When will we reach a point of maturity where online penetration can't get much higher and operating costs can't get much lower?  In other words, has the majority of the online shopping potential already been realized or is there more to come?
In this highly visual talk Doug takes you on a journey into the future to look at the systems, technologies and consumer behaviors that point to a new chapter in online shopping.  You'll see, first-hand, the emerging trends that promise continued and exponential growth in ecommerce and a merging of our physical and digital consumer worlds.
If you'd like Doug to present to your organization, contact us.

Big Data and The Retail Revolution
90% of the data that exists today was created within the last two years! And while the sheer volume and velocity of data is definitely astonishing, what's even more compelling is our growing capacity to gather, analyze and make sense of it all. From social media streams, videos and reviews to weather, traffic and machine to machine communication, each day a virtual universe of data is being created. Smart brands are honing their understanding of that data and its potential impact on every aspect of their customer's experience with their brand.  The Destination is You will provide a glimpse into the future of retail by examining this new and amazing data deluge and how pioneering brands around the world are turning it into a new world of opportunity.

The Segment of One:  The Future of Customized Manufacturing
300 years ago most goods were customized, bespoke and unique.  The industrial revolution created a sea of sameness and product parity.  In this fascinating talk Doug highlights the companies, technologies and social trends that are shifting the consumer economy from centuries of mass production to a future that will offer us efficient, one-off, customization.  From apparel to eye wear to household goods and furniture, the days of personalized production are back and it's a shift that will revolutionize retailing as we know it.
The Shopping Center Of The Future
The days of the ten-year lease, static rosters of mall tenants and percentage-of-sales lease rates will soon be a distant memory. The entire concept of what a "shopping center" is, is evolving rapidly, and with it the demands on real estate developers and property management are changing too.  Pop-up, virtual, omni-channel, mobile, offline analytics and collective store spaces, along with changes in demographics are challenging age-old paradigms around what a mall is, where it's located and how its success is measured.  In this talk, Doug Stephens paints a picture of the shopping center of tomorrow and shares the critical new perspective required to succeed in this radically different retail reality.
Each speaking topic can be presented as a workshop or webcast.  Fully customized, individually crafted keynotes are also available on request.