The Roadmap to a New Era in Retail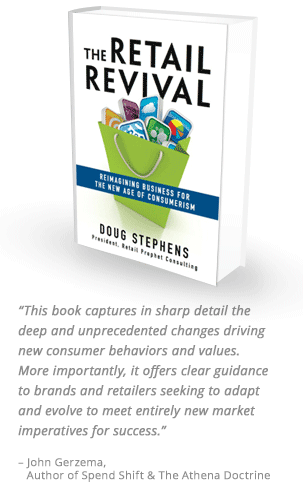 The Retail Revival documents the rise of an incredible new era of consumerism leading to a complete redefinition of what retail is. The book sheds perspective on how massive demographic and economic shifts, as well as historic levels of technological and media disruption, are turning this once predictable industry into a sea of turbulent change, leaving consumer behavior permanently altered. It examines the key seismic shifts in the market that have even companies like Walmart and Procter & Gamble scrambling to cope, and explores the technologies that are transforming how, where, and even why we shop.  Enlightening and entertaining, The Retail Revival provides no-nonsense clarity on the realities of a completely new retail marketplace, pointing to a dynamic and exhilarating revival of the industry.
Doug Stephens is the founder of Retail Prophet, and one of the world's leading retail industry futurists. Among his clients are Citibank, Air Miles, WestJet, Ace Hardware, Razorfish, Microsoft and Target. He is also the consumer technology expert for CTV's App Central and a retail contributor to CBC Radio.
What readers are saying on Amazon
Click To Order: