The Roadmap to a New Era in Retail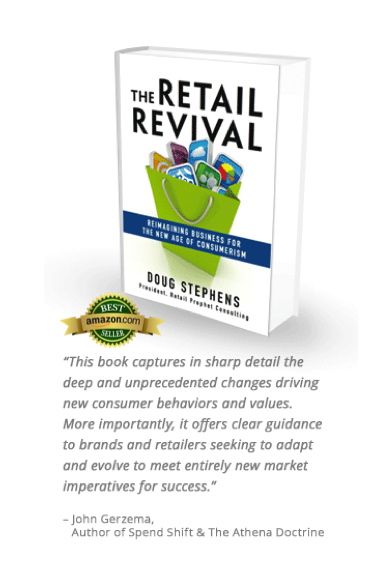 The Retail Revival documents the rise of an incredible new era of consumerism that is leading to a complete redefinition of what retail is.  The book sheds unique perspective on how massive demographic and economic shifts, as well as historic levels of technological and media disruption, are turning this once predictable industry into a sea of turbulent change, leaving consumer behavior permanently altered. It examines the key seismic shifts in the market that have even companies like Walmart and Procter & Gamble scrambling to cope, and explores the technologies that are transforming how, where, and even why we shop. Enlightening and entertaining, The Retail Revival provides no-nonsense clarity on the realities of a completely new retail marketplace, pointing to a dynamic and exhilarating revival of the industry.
Doug Stephens is one of the world's foremost retail industry futurists. His intellectual work and thinking have influenced many of the world's best-known retailers, agencies and brands including Walmart, Home Depot, Disney, BMW, Citibank, eBay, Intel and WestJet.  Doug is also listed as one of retail's top global influencers by Vend.com.
Prior to founding Retail Prophet, Doug spent over 20 years in the retail industry, holding senior international roles including the leadership of one of New York City's most historic retail chains.
In addition to writing his best-selling book,  The Retail Revival, Doug is also the consumer technology contributor on the acclaimed international television series App Central, as well as the syndicated retail columnist for CBC Radio. Doug also co-hosts the popular web series, The Future In Store and sits on the advisory board of the Dx3 Digital Conference.
His unique perspectives on retailing, business and consumer behavior have been featured in many of the world's leading publications and media outlets including The New York Times, The BBC, Bloomberg Business News, TechCrunch, The Financial Times, The Wall Street Journal and Fast Company.  Doug has consistently been ranked one of the global retail industry's most influential thought leaders.
Doug speaks regularly to major brands and organizations across North and South America, Europe, The Middle East and Australia.
What readers are saying on Amazon
Click To Order: