Our Greatest Assets?
Posted January 11, 2011
By Doug Stephens
Blogging Live from the National Retail Federation Conference
It's day one at North America's largest retail industry gathering, the NRF conference in New York.  Many of the world's best-known companies have once again come together to confer on the current and future states of retailing.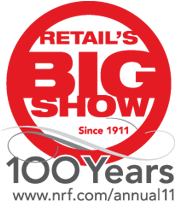 From the opening sessions of the day, the tone of the conference seemed quite clear.  Top industry executives traded perspectives on the new, connected and increasingly demanding consumer.  This consumer, they said, was infinitely more deliberate and discreet in their spending and was in turn demanding richer and more meaningful experiences from the retailers they do business with.  In essence, the bar had been irreversibly raised.
Presenters provided examples of initiatives that each of their companies was undertaking to meet these new and rigorous customer requirements.  Some were improving their data mining capabilities to better anticipate individual customer needs.  Others talked about handheld and in-store technologies aimed at empowering their customers with information.  Other's still, talked about making their brands available wherever and whenever the customer requires them.
What was conspicuous by its absence however was any meaningful mention of the value or importance of the retail employee in actually delivering or supporting this experience.
This leads me to my scheduled interview tomorrow with Caitlin Kelly, author of the new book Malled, My Unintentional Career in Retail.  The book is a no-holds-barred account of Ms. Kelly's foray into retail after losing her job as a journalist and provides a seldom seen glimpse into the life of a retail employee, through the eyes of someone who's been on both sides of the counter.
I'll be looking to get Ms. Kelly's view on what she sees as being the fatal flaws in the industry's staffing paradigm.  And why companies so often refer to sales staff their greatest assets but so rarely back it with action.