Hashtag Campaigns: The Social "Kick Me" Sign for Brands
Posted December 18, 2012
By Doug Stephens
Businesses, it seems, are still fascinated with the Twitter-based hashtag campaign. And why not. These promotions are quick, cheap and easily executed. Just tweet something out, invite consumers to chime in with their own thoughts, ideas or content, #hashtag it and Bob's your uncle – you've got a load of free media! I'm sure it's high-fives all around the boardroom when these ideas are hatched. However, on the mean streets of social media, it's often a very different story. There, these promotions can take a decidedly ugly turn. Take McDonald's for example, who using the hashtag #McDStories, launched a Twitter campaign aimed at gathering warm and fuzzy anecdotes about just how much consumers loved their Big Macs and Quarter Pounders. Regrettably, what instead ensued was a litany of shocking, nauseating and (I have to admit) sometimes hilarious tales of foreign objects in food, botulism and employee trash talk. The stream of comments got so out of hand, the company had to take the hashtag down – the Twitter equivalent of riot control.

Or Air Canada, who birthed a similarly hideous brainchild by asking travellers to chime in with their "Great #AirCanada stories" for a chance to win a pair of round-trip tickets. As it turns out, the first response they got was this: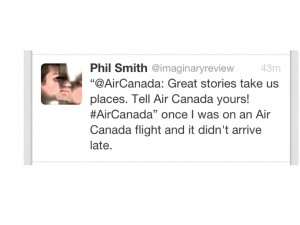 And most recently, there's the case of Starbucks U.K. who invited their customers to tweet out holiday wishes using the #SpreadTheCheer hashtag.  What happened however, was anything but cheery for Starbucks.  The public jumped on the opportunity to criticize the company for what many Brits see as Starbucks inexcusably low corporate tax remittance rate and adversarial labor policies.  To make matters worse, the tweets were being streamed to a giant screen that Starbucks had sponsored at London's Natural History Museum skating rink!

So why do brands seem compelled to do this?  Why do they repeatedly subject themselves to this when there's so much good evidence that it's a bad idea?  It's a little like standing by the side of a busy highway and saying, "Honk if you love me!"  Undoubtedly a percentage of passersby will just tell you to go f*&% yourself instead.  It's just human nature.  And if you really do offer reasons for customers to be upset with you, (poor service, labor issues, health standards etc.) more reason not to bait the public's ire with these sorts of ingratiating campaigns.  Clean up your house first – hold the tweet-a-thon later.
And if we're honest, these really aren't tremendously creative forms of engagement anyway.  In fact, one could argue it's downright lazy to expect your followers to do all the heavy lifting of content development and distribution while your brand sits back and reaps the rewards.
My advice is this; the next time you or anyone in your company comes up with what you think is a great idea for a hashtag campaign… #thinkagain
Look for my book The Retail Revival in stores February 2013